Library
The Library of the Regional Blood Center of Ribeirão Preto is available for: professors, students, researchers, scholars, staff and the institution's graduate students. To use the Library is required a brief registration. The following services are offered: works loan, help with literature search, location of articles, literature review, copy request (book chapters or journal articles), bibliographic standards, among others. The collection consists of over 2,800 titles of books, dissertations, theses, CDs, DVDs, VHS and printed journals and also online.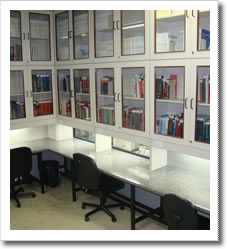 In February 2008, we acquired a new library program, the Home Personal Library – PHL Web version. The program is available through the online library link.
With the new program, user can:
-Search the library collection both in FUNDHERP , or remotely;
-Renew borrowed works;
-Reserve works.
To make a search in the collection using the program, just type words of the title, subject and / or author and SEARCH. Check if the material is available in the library and note the location code. Sample search:
HEMOTHERAPY * COVAS, any questions click HELP (between one word and another, use the asterisk).
The library program was purchased in order to facilitate the activities of both the librarians and many users, once you don't have to come to the library to search through the collection and renew materials borrowed, now you can do it at home, from you lab or any other place with internet access.
If you are interested in make a training to use the program, please arrange a date and time with the library staff.
Library Hours: Monday to Friday from 07h to 17h.
The Library is available to proactively research increasingly advance and it can serve as an instrument of support to all its members.
Access the library online on the link below:

Access the regulation of the library through this link

To download the file to your computer click the right mouse button on the link above and click and "save target as"