14/03/2017

Imprimir
Blood Bank Professionals launch Transfusion Medicine Manual
The second edition of Transfusion Medicine Handbook written by Dr. Dimas Tadeu Covas and Gil Gunha De Santis and Dr. Eugenia Amorim Ubiali was launched on November 7, at the booth of ABHH during Hemo 2014.
Authored by Dimas Tadeu Covas, Eugenia Maria Amorim Ubiali and Gil Cunha de Santis, the work was published by Editora Atheneu and aims to help doctors, students and professionals with concise and updated information for its improvement.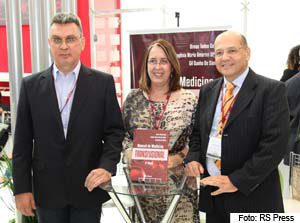 The manual contains a descriptive of the characteristics of blood components and blood products, and another that addresses the most common clinical situations in transfusion medicine, from the point of view of indications of adverse reactions.

In addition, specific chapters discuss about therapeutic apheresis and some alternatives to transfusion. The Hemo 2014 was conducted in Singapore (SC) between 6 and 9 November.